Facilities

Student Community
Student Centre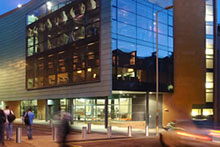 Abertay's Student Centre is in the middle of Abertay's friendly city campus, just yards from its award-winning library and main teaching buildings.  It has invested £6 million into getting it just right, from the beautiful red sandstone to the inspiring green cladding with glass front.  The Student Centre is more than just a building – it's the cultural and social hub of the city campus and is a safe, stimulating environment in which to eat, relax and socialise with friends and meet with lecturers.
Clubs and Societies
The Abertay Students' Association promotes a wide range of societies, such as Animation and Anime, Film, the International Student and Islamic Societies, LGBT, Martial Arts and the Siobhan Anne Luckett Drama Society.  A list of all current societies can be found here
---
Study Facilities
The facilities offered by Abertay are unique and innovative, helpful in enhancing students' creativity as well as offering them respite from their busy schedule.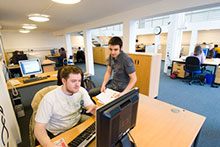 White Space
Situated on the ground floor of the University's Kydd Building, White Space is a unique knowledge environment for students, staff and local businesses.  Opened in 2007 and with an eclectic mix of disciplines, this creative environment is now a thriving hub of creative activity.
The Library
Abertay's award winning Bernard King Library offers a superb learning environment including fully equipped seminar rooms for teaching information and IT skills, six group study rooms, and the Centre for Language Learning and Self-Study.  Part of the building has been designed to operate 24 hours a day and combines IT and study facilities and a time-out area where students can relax.
---
About the Campus
The campus itself is an eclectic mixture of everything from the Edwardian Old College to our outstanding and award-winning Bernard King Library. The heart of the University lies in Bell Street, with most teaching and learning facilities, offices, research centres and the Library all within just a few yards of each other.  Best of all, our 21st-century Student Centre is also here, and whether you're going to lectures, meeting with staff, studying in the library, attending tutorials and seminars, or just having a coffee with friends, you'll always feel like a part of our bustling community.
---
The Location and Area Facilities
Dundee, a friendly, safe and affordable city, rests on the spectacular estuary of the River Tay on Scotland's east coast. Founded more than 800 years ago, it has a long history as a trading port and industrial centre. Today, Dundee is the fourth largest city in Scotland and is a hub for life sciences research, computer games and digital media, arts, business, education, hi-tech manufacturing, telecommunications and tourism.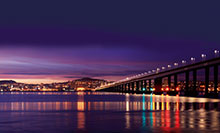 With a population of just under 150,000, the City of Discovery has punched well above its weight in reinventing itself as a city renowned for its energy, expertise and entrepreneurialism.  The city's cultural renaissance is progressing hand-in-hand with its economic and social regeneration.  The world-renowned V&A Museum in London chose Dundee as the location for a unique experiment in outreach: the £45 million V&A at Dundee building is scheduled to open in 2017 as an international centre of design for Scotland.
As an educational centre, Dundee has one of the highest proportions of students to total population of any city in the UK, and this energy brings a whole new dimension to the city's nightlife, leisure and cultural facilities