Overview

We've been educating people for exciting and rewarding careers since 1888, so we know quite a lot about delivering high quality, student-focussed education.
Abertay has become well-known internationally for developing innovative and ground-breaking courses in the fields of computer games technology, computer arts, environmental management, biotechnology, ethical hacking and computer security, and we also offer a wide range of courses in fields as diverse as psychology, forensic science, business and management, food and drink, civil engineering and sports science.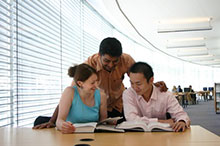 At around 5,000 students from more than 60 countries, we're large enough to be cosmopolitan yet small enough to provide a friendly family atmosphere.  Unlike larger institutions, at Abertay you're much more likely to study and socialise with fellow students from a wide variety of backgrounds and studying different courses. Coupled with our strong focus on employability and transferable skills, we believe an Abertay education offers a richer and deeper learning experience than many others.  
---
Why Choose Abertay University?
Abertay University offers a wide range of undergraduate and postgraduate courses.  These courses are designed and equipped to meet the challenges of today's industry.  There are four Schools which operate as centres of knowledge and efficiency:
---
Dundee Business School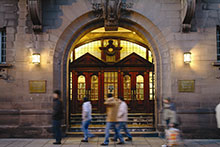 The Dundee Business School offers business and management education. It trains graduates to ensure that they are equipped with the competencies and skills essential to succeed in the business world.  The courses offered by the School provide industry experience to students and enable them to work with successful business professionals.  Its courses include: finance, human resource management, law, management, marketing, oil and gas management, and web design and development.
---
School of Arts, Media and Computer Games
The School of Arts, Media and Computer Games encourages innovation and enables students to achieve in the fields of computer games and digital media industries.  It houses the UK's first ever university Centre for Excellence in Computer Games Education, and the School's links with major industries strive to fulfil the career aspirations of students. It offers a wide range of courses, ranging from games programming at the science and technology end, to narrative-based animation at the arts end. The School has active links to over 50 computer games studios that mentor students and offer professional advice on projects.
---
School of Science, Engineering and Technology
The School of Science, Engineering and Technology believes that science has the potential to improve everyone's lives.  The School stands out in civil engineering and construction, computing and networks, environmental science, food and health science and forensic science, amongst others.  It offers a wide range of undergraduate, postgraduate and research courses.  It is also home to pioneering degrees in ethical hacking and digital forensics.
---
School of Social and Health Sciences
The School of Social and Health Sciences offers dynamic programmes that focus on present-day employment needs.  Research students of this School enjoy the tutelage of teachers who are acknowledged experts in their subject areas.  The School offers a wide variety of courses including counselling, mental health nursing, psychology, sociology and sports science.
---
Research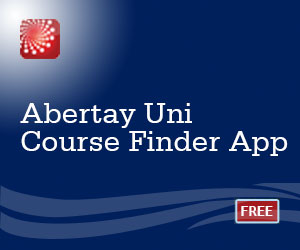 Abertay University's research focus is committed to research that delivers a real impact for society. From environmental research into sustainable businesses, to using technology to improve cancer drug discovery and secure our identities online, to understanding the psychology behind the witness testimony of crime victims, our researchers are solving complex real-world problems.  Abertay works with global partners across industry and academia, and actively welcomes new research proposals that can deliver new knowledge and solutions to major business, environmental, scientific and social problems.  According to a UK government review, Abertay is the best modern university in Scotland for research in environmental sciences, law and psychology.