University of Sunderland Clearing 2023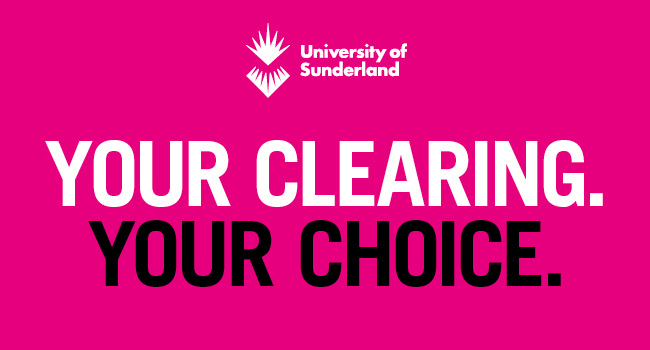 Students from all disciplines will do well at the University of Sunderland – our £9 million state-of-the-art media centre is a big draw for creatives, while those with an entrepreneurial spirit will delight in our 'Start a Business' schemes and extra-curricular support.
All our courses have been developed with industry needs and standards in mind; thus, providing you access to the most up-to-date technology, knowledge, and resources available. From Health, Computing and Arts, to Education, Business and Social Sciences - chances are, we've got a career-focused course that's right for you.
We're renowned for our long-established commitment to widening participation, our world-leading research and our global public and private sector collaborations. Plus, we have a strong track-record in providing quality student experiences that result in successful graduates. As a university, we're focused on ensuring our graduates leave equipped with the knowledge, skills, confidence, and connections to make a positive difference in the wider world.
We're proud… to be a top 50 UK University (Guardian University Guide 2023), of our top-quality facilities, inclusive culture, and our vibrant, ever-changing city. But we're most proud of you, and where you go after here, because that's the point isn't it?
Come here. Get somewhere.
---

Clearing Vacancies
Whether you're not holding any offers or have changed your mind about where and what you want to study, Clearing is a great opportunity for you to plan your pathway to a new and exciting future!
Call our Clearing Helpline today to explore your Clearing options and discuss your future - 0191 515 3000.*
Our friendly and knowledgeable staff will answer the phone ready with information on all our courses still accepting applications. For many of our courses, if you meet the entry criteria, you will be made an offer right-away over the phone. You will then be able to add and accept your offer through your UCAS Track account.
If you don't achieve the entry qualifications for your chosen university or course or are considering coming back into education after time away, you may wish to consider an Integrated Foundation Year (IFY) course.
An IFY is a four-year degree route that incorporates a special Foundation Year to help you gain the essential study skills, subject knowledge and confidence to progress onto your chosen honours degree.
Get in touch and let's chat about your Clearing options and future – 0191 515 3000!*
---

Clearing Contact Information
We appreciate everyone's circumstances and goals are different. We also understand that applying through Clearing can potentially be quite a confusing and daunting prospect. This is where we can help!
Our experienced and friendly staff are on hand, ready to answer your all-important questions and support you throughout your journey to university.
Simply get in touch to chat about your Clearing options and future.
Telephone: 0191 515 3000
Email: student.helpline@sunderland.ac.uk
Website: sunderland.ac.uk/clearing/