Discover your place in Clearing and study at a Gold rated University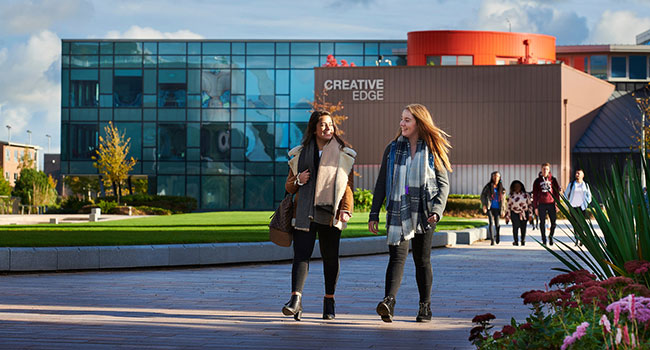 With a mission to create opportunity from knowledge, Edge Hill University is continually recognised for its outstanding achievements in student support, teaching excellence, graduate employment and innovation. Awarded the Global Teaching Excellence Spotlight Award in 2018 and ranked TEF Gold (2017) for outstanding teaching, it's recognised as one of the world's leading teaching institutions.
As a leading university, entering the top fifty UK universities in the Guardian University Guide 2020, we're committed to providing our students with a great student experience leading to a rewarding career. The student experience at Edge Hill is recognised as the best in the North West, with a range of activities and opportunities to complement your studies and enhance your skills.
Clearing applicants will be able to apply for on-campus accommodation, voted best student accommodation in the UK and Ireland. There's a range of options available for first-year students, however Halls of Residence cannot be guaranteed for those accepted in Clearing and places will be prioritised on factors such as the student's distance to campus from their home address. If you're unable to secure a room, our dedicated Accommodation Team will support you to find private accommodation.
---

Clearing Vacancies
There are a number of reasons why you may find yourself applying in Clearing. Whether you've changed your mind about where to study, decided to apply after the UCAS deadline, or not achieved the expected grades, we're here to guide you through the Clearing, or Adjustment, process. With a limited number of Clearing places available, speak to our helpful staff to ensure you secure your place today.
We have a range of courses available across three faculties:
---
Faculty of Arts and Sciences
The faculty encompasses the departments of English, History and Creative Writing, Performing Arts, Social Sciences, Sport and Physical Activity and Media. It offers a diverse range of courses, from Dance and Musical Theatre to Sociology and Business.
---

Faculty of Education
Successfully training the teachers of tomorrow for over 130 years, Edge Hill has an enviable reputation as one of the leading providers of teacher training in the UK. Courses are available in Secondary English, Mathematics and Religious Education, as well as Early Years and Primary Education.
---
Faculty of Health, Social Care and Medicine
We're one of the largest providers of health and social care education in the North West, home to a new Medical School and industry-led clinical skills and simulation facilities. Courses include nursing and midwifery, nutrition and social work.
---
---
Contact us:
Clearing and Confirmation Enquires: 0800 028 66 77
Adjustment Enquiries: 0808 144 66 44
Clearing Email: clearing@edgehill.ac.uk