Facilities

Sport
Aberdeen is one of the most successful universities in Scottish and British levels of university sporting competition. In summer 2009 the University, in partnership with Aberdeen City Council and supported by sport scotland, opened Phase 1 of a new £28 million flagship sport facility, with the aim of becoming the centre of excellence for sport in north-east Scotland.
---
Student association, clubs, and societies
The Students' Association (SA) is the organisation that represents and serves your interests, and works to make your time in Aberdeen as happy and enjoyable as possible. Find out more
Advice and Services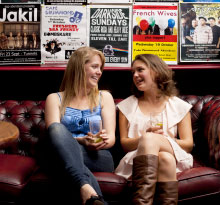 AUSA attempts to alleviate student hardship through the provision of its services. It has an Information & Advice Centre to answer all your important questions from healthcare to bus routes and everything in between. AUSA provides a money advice service, which can help you manage your money and help keep you out of debt. The Centre provides a comprehensive resource of private accommodation which is also available online. AUSA is able to provide advice on contracts, landlords, and living on your own for the first time.
---
Student support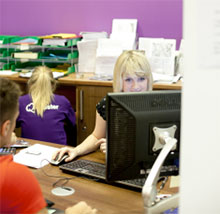 Our student support services continually rank with the best in the UK and are in place to help you with any aspect of your academic, personal or social life.
Coming to University is one of the biggest moves you'll ever make. You'll no doubt find student life new and exciting, but you may also find it a bit bewildering at first too, especially if you are living away from home for the first time. That's why we aim to make sure right from the start that you have access to all the support you might require, from a team of people who are easy to contact and who can give you friendly, expert information and advice.
---
Sir Duncan Rice Library
The Sir Duncan Rice Library is one of the largest and best equipped in the UK, offering excellent learning resources to support your studies. Designed by Danish architects Schmidt Hammer Lassen, the £57 million building is an iconic architectural landmark of North East Scotland.
The new University Library is a 21st century space for learning and research. It houses the largest of the University's modern collections on Floors 1-7 - including Arts, Humanities, Sciences and Social Sciences.
The building is open to the wider public, as well as students and staff. A wide range of facilities are available including:
a Gallery on the Ground Floor for exhibitions and displays (which all are welcome to visit)
an Events Area for school visits, and lectures and presentations
a Microform Room, Multimedia Room, Music Resources Room, the Teaching Resources Collection, Assistive Technology Booths and other facilities
PCs on every floor
There are also more informal areas including The Hardback Café on the Ground Floor (which is open to all), and the 'Break-out' Room on Floor 7, where students can enjoy panoramic views of the city while reading, working on a laptop, or engaging in quiet conversation. 
There are over 1,200 study spaces: from traditional silent study rooms to interactive areas for collaborative projects, supported by information technology. The entire building has comprehensive wireless network coverage, and there are also sockets to plug in your own laptop throughout. A further 600 seats are available at the medical and law libraries. Also on the Old Aberdeen campus, the Taylor Library and European Documentation Centre cover law with official UK and EU publications. The Medical Library on the Foresterhill Campus is for students of Medicine and Medical Sciences.
We have over one million volumes in our collections, from ancient papyri to electronic journals, most of which are easily accessible through our online catalogue. You'll find an extensive range of electronic resources, advice via Podcast on making best use of our collections, and, in addition to the clusters of PCs in all libraries, you can borrow wireless laptops for use within the Taylor Library or use your own wi-fi laptop via the University's wireless cloud.
The Library holds books and journals that appear on your reading lists. These are available for reference or overnight loan through our Heavy Demand service. You can also borrow from other libraries through our inter-library loans service.
---
Special Collections and Museums
As an ancient university, we are proud of our museums, archive collections and rare books, built up over 500 years and which are exceptional in their richness. Special Colelctions and Museums holds an internationally-significant collection of over 200,000 rare books, printed mostly before 1840, and 4,000 unique archive and manuscript collections. These are complemented by the University's museum collections, which include Anatomy, Archaeology, Anthropology, Art, Geology, Herbarium, History, Pathology, Scientific Instruments and Zoology. The University's museum collections are amongst the largest in the country and of national importance.
All these collections are used to support taught courses in ways not possible in most other universities, such as being involved in curating an exhibition. They are also available for individual study and enjoyment, and can provide volunteer opportunities to enhance your CV. The collections are displayed in various venues on campus, including the Zoology Museum and King's Museum.
www.abdn.ac.uk/museums
www.abdn.ac.uk/library/about/special
---
Resources for Language Learning 
Our Language Centre is open to all University of Aberdeen students. It offers a broad range of audio, video, computer and satellite television facilities, an extensive materials library covering up to 50 different languages, courses for students whose native language is not English, and all the language learning advice and support you need, whether you are studying for a degree in languages, preparing for an exchange visit, hoping to improve your CV, or are simply fascinated by  other cultures and languages.
---
Student Learning Service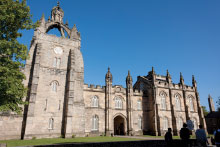 Studying at university can be challenging. What is academic writing? How do you prepare for exams? The Student Learning Service offers workshops on these and many other topics during term-time and academic skills advice throughout the year. Specialist academic skills advice is available for students with dyslexia or other learning differences. The Student Learning Service also offers online resources, such as Improving Your Writing.
---
Computing Services
We support a variety of web and computer based resources, complementing your studies and allowing you to manage and review coursework at your pace and in your own time. Our students enjoy free, fast, wireless internet access in all Halls of Residence and most administrative and academic buildings across the campus.
---
Service Desk
Contact the Service Desk for advice on all computing matters, including electronic resources. There is a drop-in Service Desk in the computing centre in the Edward Wright Building, InfoHub, Sir Duncan Rice Library and in the Medical School library.
Email us via servicedesk@abdn.ac.uk  and visit our web pages at www.abdn.ac.uk/library/support/servicedesk/
---
InfoHub
The InfoHub is your first point of call for all student services, information and enquiries. InfoHub staff can provide information and guidance, or help you make appointments to see specialist advisers from Registry, Careers or the Student Learning Service. www.abdn.ac.uk/infohub
Key facts
Did you know we have the biggest wireless cloud in Europe? This means wherever you are in Halls, university cafes, on King's Lawn or in a lecture theatre, you can access the internet. Here are some other useful facts.
Secure and backed-up home file space – 2GB to store your files
Student Portal – a secure web-based portal through which you can view and check your personal details, course enrolments, timetable, accommodation fees, library loans and exam results
Over 1,500 high spec computers – distributed over classrooms, libraries and clusters on campus and in Halls of Residence
Whether you like studying in the day or in the middle of the night, we have computer labs accessible 24-hours a day
Wide range of software and high quality wireless printing
Classroom internet access – faster than domestic broadband
Disability provision – a range of specialist software on all classroom PCs, and a number of individual occupancy Assistive Technology Booths
Full technology support – providing help and training to ensure that all students access the same curriculum and learning environment
A dedicated Student IT Officer – listening to your views and concerns, and keeping you informed about developments in IT services on campus
For further information on all student facilities visit our website