Facilities

Specialist Libraries
Specialist courses demand books and reference materials that aren't available in more general libraries. Over the years we have built up an extensive stock of books and journals at our two libraries in Summer Row and Richmond House.
But there's much more to our libraries than reference books. We have an extensive range of online resources and databases, as well as other multi-media resources. Having so much reference material in one place makes researching your coursework so much quicker and easier, whether you're working on your own or in groups.
---
Resource Centre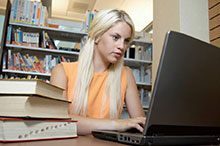 The Summer Row Resource Centre provides access to 130 PCs, all with up-to-date software and Internet access. This is also the focal point for a centralised assignment hand-in and collection service, as well as facilities for binding of dissertations, sale of stationery and general IT support.
---
Subject workshops
In addition to normal tutorials, subject workshops are available which provide an opportunity for you to seek expert help on a particular topic or assignment which you may not fully understand. Popular with students, these optional workshops are just another example of our commitment to helping you achieve your true potential.
---
Cakes and Bakes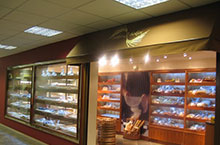 Cakes and Bakesis our very own shop situated on the ground floor of the Summer Row building and is open to the general public as well as staff and students during term time.
It sells a variety of delicious bread, cakes and biscuits, freshly baked each day by our own bakery students, and ready meals produced by our chef catering students – ideal when you are missing a home-cooked meal.
---
The Spa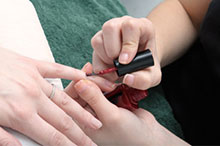 The Spa facilities are open to members of the public, students and staff and welcome you to a range of treatments and services at reduced prices. We also have a gym available for all students.
Beauty treatments range from a basic manicure, make up application, hot stone massage and spa body wraps.
Hairdressing options include cut and blow-drys, the latest colouring techniques, extensions and much more.
---
UCB restaurants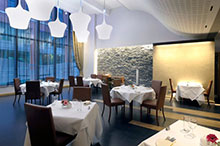 There are two restaurants at University College Birmingham which are open to the public, the Atrium and the Brasserie. They are open during term times from Monday to Friday and offer an extensive and exciting choice of menus at very affordable prices.
Students on our chef, food service and hospitality programmes train in the restaurants as part of their course, giving them invaluable hands on experience. This is why customer feedback is always important as it helps to build their skills and knowledge and improves their confidence when dealing with customers.