Facilities at Staffordshire University

Staffordshire University is investing millions in further development of its campuses and adding to the state-of-the art equipment and facilities. Stoke-on-Trent campus, which opened a £30m Science Centre in 2012, is currently developing a £12m Gaming and Computer facility. This is part of a £40million investment programme, which will also see improvements and significant investment at Blackheath Lane (Stafford) and Shrewsbury.
The University also teamed-up with Epic Games, the developer of the Gears of War series, to open an on-campus development space for Game Design students and industry professionals, called the 'Epic Games Centre'. The Centre offers students access to world-class hardware and equipment while providing impressive links to the industry.
"The facilities are brilliant, lecture rooms are all clean. I have Macs in my studio that are all up-to-date. The printers have recently been replaced and the library is a brilliant place to study with a vast variety of resources." Joseph Hall, Graphic Design.
---
Welfare Services at Staffordshire University
Staffordshire University's Student Support Team offers advice on a wide range of financial, legal and welfare issues, as well as religious support if you need it.
The Student Guidance Advisors run a drop-in service where you can get some initial advice if you are having any course-related issues. You can then make an in-depth appointment to discuss any issues further. The Students' Union also offers support for students who are having difficulties, either on their course or in their personal life. The Student Enabling Centre provides specialist support, including helping students with applications for disabled students' allowances and mobility support.
---
Staffordshire University Libraries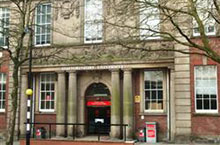 Libraries with IT and study facilities can be found on all Stoke-on-Trent, Stafford, Shrewsbury and Lichfield campuses. As well as the books you find on the shelves, you'll get access to eResources, DVDs, CDs and specialist resources including a newspaper and television archive. The University also has a dedicated Law Library, which hosts an impressive archive of learning materials.
You'll find a variety of workspaces, whether you're looking for some quiet study time or to work as a group. You can also get access to video conferencing facilities for cross-campus meetings.
Our libraries are open 24/7 during term-time, helping you to study when and how you want. If you need any help with revision, learning to manage your time effectively or any other study questions, you'll find Study Skills staff on-site at all of the libraries who are more than happy to help.
---
Financial Aid
In 2015, Staffordshire University offered 500 bursaries, helping students from disadvantaged backgrounds with the cost of attending university. There is also a joint Government and University National Scholarship Programme which you can apply for if your household income is less than £25,000 a year.
If sport is your thing and you play at county level or above, you can apply for a Team Staffs Sports Scholarship and receive a support package worth around £6,000 a year.
Find out more about the bursaries available here. http://www.staffs.ac.uk/undergraduate/funding/support/index.jsp
---
Career Services
The Careers Network can offer you one-to-one help with your CV, filling out application forms, and will even carry out practice interviews with you. There are careers information rooms, which have loads of information about graduate occupations, how to plan your career and guides to help you put together a top CV.
The annual CareersFest helps put graduate careers front and centre for all University students. Key-note presentations, practical workshops and online videos support the student whilst Staffordshire University guarantees the opportunity of Work Experience for all undergraduate students from 2016. 
---
International Students
There are around 1,500 international students studying at the University. Staffordshire's International Student Support (ISS) can provide support and help you find out everything you need to know about your course and life in the UK. From immigration and visa issues to helping you out with employment rules or language barriers, ISS can help. 
ISS also runs social activities and events, including day trips to surrounding areas so that you can make the most out of your experience while in the UK.