Facilities

Library and Study Facilities
St. George's University campus covers the beautiful True Blue peninsula in the southwestern corner of Grenada overlooking the Caribbean Sea. The University's $250 million campus includes state-of-art classrooms, an impressive medical library, lecture halls, laboratories, a student centre, health services centre, and climate-controlled student housing. School of Veterinary Medicine students receive hands-on training at the on-campus Small Animal Clinic and a Large Animal Resource Facility. The University  can house over 1,700 students on campus and a variety of living spaces have been created to accommodate the diverse student body.
---
Sports
Sports and recreation are an essential part of University and campus life.  Students take full advantage of the warm, tropical climate, participating in outdoor activities such as snorkelling, swimming, and scuba diving in their free time.  But sports at St. George's University go beyond that as a result of a University commitment to provide facilities similar to any educational institution, anywhere.
---
Amenities
It may be helpful to open a local bank account when you are on the island. Since sending Financial Aid checks securely back to a home bank can be expensive, opening a local account may simplify transferring money and loan checks.
If you open a local bank account it will be a 'savings account' with an ATM card. Checking accounts are only available after a savings account has been open for 6 months.
Food is very readily available on the True Blue campus since several restaurants and food vendors do business on campus and two of these, Subway and New York's Finest Bagels, operate 24/7. Also, there are a variety of establishments which sell food in the Grand Anse area.
---
Medical Services 
University Health Services (UHS) provides support to the University community: students, faculty, administrative staff members, and families. The UHS provides a wide variety of services, from primary health care to off-hours urgent care. Besides medical care and critical care assessment, UHS offers referrals to local physicians and to the SGU Counseling services. Our mission is for all members of the SGU community to stay healthy.
---
Welfare Services 
The University's dedicated Department of Educational Services teaches students how to learn and teachers how to teach. This unusual and highly effective faculty is the largest on campus, and is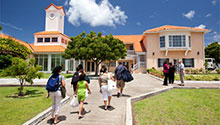 an important component of our students' and graduates' success. Close to 100% of the University's students, and many of the professors, in all schools avail themselves of the support offered through a variety of innovative programmes, including time management, note-taking skills, and utilising technology effectively in teaching and learning.
---
Students Union
With over 50 student-sponsored organizations catering to a wide range of interests, students actively take part in creating a lively and diverse campus community. In addition, the island of Grenada affords students a wide array of activities and events to participate in. In one day, a student could dive the crystal clear waters or hike the Grand Etang Forest in the morning and return to campus for a hands-on lab on exotic and wildlife species.
---
Careers Services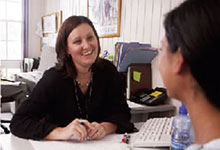 The Office of Career Guidance and Student Development is designed to assist medical students in obtaining postgraduate residency. Complete information on examination requirements, clinical rotation time schedules and obtaining postgraduate training is provided. The Office also advises students on USMLE preparation, counsels students in specialty and residency selection, interview skills, CV preparation and the residency application process in the US, UK and non-US programs. 
---
Financial Aid 
We are dedicated to making our unique brand of international education accessible to the best and brightest students from all over the world. As such we have awarded over 5 million dollars in scholarships to more than 5,000 students over the years. We are constantly seeking out new opportunities, developing relations with organizations and governments, finding the best loan opportunities in order to ensure our students can pursue their education with minimal financial obstacles.