Courses

Courses at St. George's University School of Veterinary Medicine
We offer advanced, premedical, and preveterinary degrees in our Schools of Medicine and Veterinary Medicine, and independent and dual graduate degrees in the sciences, public health, and business. Undergraduate degree programs are also available through our School of Arts and Sciences. Programs are accredited and approved by many governing authorities. We are affiliated with educational institutions worldwide, including the United States, the United Kingdom, Canada, Australia and Ireland.
---
International Erasmus Opportunities
Founded as an independent School of Medicine in 1976, St. George's University has evolved into a top centre of international education, drawing students and faculty from 140 countries to the island of Grenada, in the West Indies. Students attending St. George's enjoy the benefits of a thriving multicultural environment on the True Blue campus, offering all the amenities and technologically-advanced facilities of a world-class institution.
---
Faculties
School of Medicine
School of Veterinary Medicine
School of Arts and Sciences
---
Fees and Costs
Average fees for Postgraduate, International and Undergraduate students:
Tuition & Fees: $153.924
Books & Supplies: $8.464
Room and Board: $61.590
---
Scholarships and Bursaries
The International Peace - UK Scholarship program, which offers up to one-third off tuition, is committed to promoting a student body made up of diverse nationalities and cultural backgrounds, which in the future will contribute to a worldwide medical community.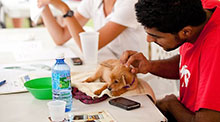 The Commonwealth Jubilee Scholarship program seeks to make tertiary education possible for top scholars in Commonwealth countries who might otherwise be unable to attend. Beginning in 2013, we will award 60 full-tuition scholarships across five academic programs to commemorate the 60 years of the Queen's reign as the Head of the Commonwealth of Nations. Find out more