Facilities
Within the faculty we have industry-standard facilities that are available for all our students.  These are purpose-built and with your career in mind.  Our students have access to and are taught on software that industry uses.  All our facilities are 24-hour access which gives our students the time and space to create some truly inspirational work.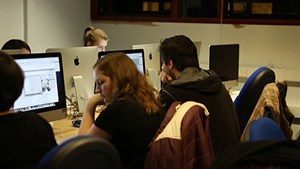 At our Headington Campus we have the Abercrombie and Richard Hamilton buildings.  The Abercrombie building is home to the School of Architecture and the School of the Built Environment.  It has open plan studio spaces and designated computer suites, a kitchen on every floor and an Architecture print room with 3D printers and other specialist printers for student work.  It is split over four floors and was recently extended. On the ground floor is the Glass Tank gallery, where staff and students can exhibit their work; it is where the annual End of Year show is held for the School of Architecture and the Fine Art Degree show for the School of Arts. 
In addition to the facilities in the Abercrombie building there is the John Payne building houses an Architecture workshop and Technology workshop for the School of the Built Environment. 
Richard Hamilton building is home to the School of Arts.  We have facilities for Art, Art and Design, Film Studies, Digital Media, Music and Publishing.
For Art & Design we have individual studio spaces for our students to work in.  We have exhibition space in Richard Hamilton and in the Glass Tank gallery. 
For Film Studies have a 6K Red Epic Dragon camera and a brand new 4K Cinema Room with Dolby Atmos sound.
Digital Media have a TV studio where live broadcasts are made on a regular basis.
The Arts Shop is run by students and sells a wide range of art supplies, such as paper, foam boards, sketchbooks, paints, charcoal and pencils.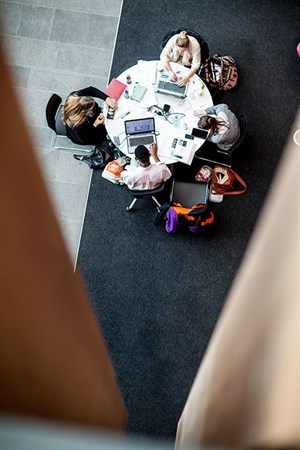 Bookworks: book-arts and bookbinding studios and workshops linking traditional skills and approaches with modern and alternative print media.
Film & Edit Suite: specialist IT studios for video and sound editing, electronic imaging, page layout and web authoring resources.
Foundation Studio: we are focused on providing you with fantastic opportunities and resources to develop the skills and techniques required for degree-level study.
Music Studios & Practice Rooms: musical instruments and professional equipment along with recording studios and performance space.
Materials and Processes Studio: dedicated studio spaces, support and resources for woodworking, welding, vacuum forming, glass forming, casting and ceramics.
Print Studio: specialist printmaking workshops in well-equipped studio spaces with the support of our team of practising artists.
Photo Studio: photographic studio and darkrooms with high-end equipment and the support of technical specialists.
Publishing IT Suite: purpose-built suite in the Tonge Building with an interactive whiteboard and sound and video projection.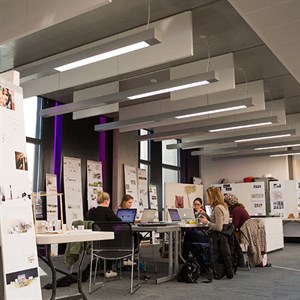 Turing and R buildings are based on our Wheatley campus, R building is home to the Department of Mechanical Engineering and Mathematical Sciences with four engine test cells, (one dedicated to Formula Student), automotive lab including a range of F1, single-seat race cars and road cars, a four post rig for suspension evaluation and the Formula Student workshop.  In addition we have a Dynamics lab, Fluids lab, a 2/3 size wind tunnel for students to test their CAD designs, mechanical testing and stress lab, joining technology lab and a manufacturing workshop. 
Turing building is home to the Department of Computing and Communication Technologies and has two robotics labs with a Humanoid Robot, Artie and our family Nao robots, research and teaching robot Baxter.  We also have networking labs and computer suites with industry standard software.
Aircom's Asset3G software for cellular radio planning including propagation modelling, coverage analysis and optimisation. Students can plan coverage for 2G, 3G and WiMax cells. Having planned a small network, students can then simulate traffic over the network to test its viability. Drive testing the established networks can also be undertaken to provide data for the network design and subsequently to compare actual coverage with predicted. Subsequent optimisation of parameters within Asset3G could then improve the model.
Optical network analysis equipment including OTDRs, test networks, laser/LED modulation and detection systems, and reflectometer analysis software.
Optsim, for advanced optical network modelling and design – used in under/postgraduate modules on optical communications and for student projects.
OPNET (www.cct.brookes.ac.uk/facilities/opnet) for network simulation of fixed line or wireless networks, including cellular systems. This software has been used extensively by our research students in modelling ad-hoc wireless networks.
Matlab with communications blocksets and full end-to-end WCDMA modelling facility for simulation of 3G mobile networks.
TIMS digital and analogue communication modelling system, which enables hardware and software modelling of: modulation, encoding, multiplexing system, CDMA etc.
In addition to all of the above we have our RIBA award-winning John Henry Brookes building which is where the library, student central and many café and restaurants, as well as our student forum where our students go to work, read or relax. 
Want to see for yourself?  Delve into our facilities with our virtual tour
https://live.tourdash.com/embed/325923b1a88f4880b3f4f4464c11f348