Overview

Why choose the National Design Academy?
You're interested in interior design and would like to start your Higher Education journey? Then the NDA is a fantastic place to start!
We are a not-for-profit organisation and have over 24 years experience in teaching interior design qualifications and are specialists in this subject. All our degrees are studied part time via flexible online distance learning. There is no UCAS application required and we offer Diploma courses which provide access to the degree programme if you do not already hold a Level 3 qualification in Art or an Art & Design based subject.
---
Our Partnership with Staffordshire University 
You can be assured that any Foundation Degree, BA (Hons) or Master of Art studied with us, is validated and awarded by Staffordshire University. The certificate is identical to those received by full time students studying on campus at Staffordshire University and graduates will be invited to their Awards Week for Graduation.
---
The flexibility of study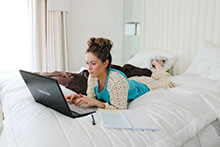 By studying via online distance learning, you are able to work whilst you study. You aren't confined to academic timetables, which means you can start your degree at any time of the year.
The course can be accessed from anywhere in the world (with an internet connection!) and at any time of the day or night. The courses are accessed through our bespoke Virtual Learning Studio (VLS) where you can contact your tutor, view your course, upload your work and chat to other students on our vibrant student community forum.
---
Cost
Part time students can now access Student Loans in the same way as full time students. Our course fees are, on average, half the price of full time fees – and there's no upfront cost if you are applying for a loan.
---
Student Satisfaction
In 2012, we received 100% 'Overall Student Satisfaction' in the National Student Survey (NSS) –alongside this; we also received two further 100% scores for 'Tutor Enthusiasm' and 'Intellectually Stimulating Course'.
---
The Staffordshire Graduate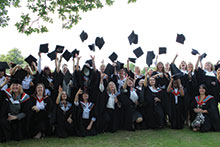 As a Staffordshire Graduate you will:
Have an understanding of the forefront of knowledge in your chosen field
Be prepared to be work-ready and employable, and understand the importance of being enterprising and entrepreneurial
Have an understanding of global issues - and their place in a globalised economy
Be an effective communicator and presenter - and be able to interact appropriately and confidently with a range of colleagues
Have developed the skills of independence of thought and, where appropriate, social interaction through teamwork
Have the ability to carry out inquiry-based learning and critical analysis
Be a problem solver and creator of opportunities
Be technologically, digitally and information literate
Be able to apply Staffordshire Graduate attributes to a range of life experiences - to facilitate life-long learning and life-long success
Our Foundation Degrees are employability focussed – they are designed to develop skills for the 'real world' to enable you to be successful in your design career.