Overview

Why choose Durham University Business School?
Study with us and prepare to stand out from the crowd. With our rigorous curriculum and exceptional teaching, you'll build world-class foundations for graduate employment or further study. You'll also get a taste of real business – learning from expert faculty members and guest speakers, as well as through hands-on work placements and international study opportunities. With our flexible programmes, you're in control – choosing a route that suits your own interests and career aspirations.
A world-class learning experience
We are a top-five UK university (The Complete University Guide 2015),and the third oldest in England.
We are ranked 23rd in the world for our reputation with employers (QS World University Rankings 2013/14).
We are one of an elite group of business schools worldwide to carry all three international kitemarks.
Read more about us here
---
An international reputation for teaching and learning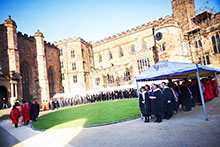 In a small world, we connect the big thinkers. We bring together over 130 different nationalities.
Choose global study opportunities at partner universities to expand your horizons
Take-up a business placement or study abroad opportunity on our 4-year degree option
---
Connecting you to business
We recruit and develop the highest calibre students, and inspire you to become an independent, well-rounded business leader who can think critically.
We recognise that the global market place is highly competitive and companies are increasingly selective about their choice of employees.
Our undergraduate employment record is one of the best in the UK (ranked 2nd in the UK for graduate employability –The Complete University Guide 2015)

---
An excellent quality of life
You'll enjoy an excellent quality of life in the North East of England, which offers exceptional value for money.
Benefit from living at one of our colleges – small, supportive, scholarly communities
Take part in a range of sports activities at Sports University of the Year (Sunday Times 2015)
Our portfolio of undergraduate programmes in accounting, finance, management and marketing is based at Queen's Campus, Stockton-on-Tees whilst our suite of undergraduate economics programmes is delivered in Durham City