Facilities

Study facilities
In recent years DMU has invested more than £260 million in facilities, ranging from industry-level equipment, studio spaces, learning zones and a first-class library, to modern accommodation and a wide range of recreational amenities.
A further £136 million is being invested in an ambitious campus transformation to provide students with a high-quality learning environment. As part of this development, Health and Life Sciences students can now benefit from extensive facility investment of £12 million has transformed the faculty in to two buildings on the city campus.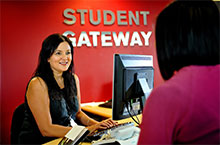 Our first-class facilities have been designed to replicate current practice with industry-standard equipment, to ensure students develop their practical skills alongside study, including modern analytical chemistry and formulation laboratories, pharmacy practice suites, audiology booths, speech and language therapy laboratories, nursing and midwifery clinical skills suites and psychology analytical laboratories to name a few.
This investment means that our world-class study facilities provide everything students need to hone their skills, be creative and defy the status quo.
---
Student services
DMU is committed to providing a high-quality experience for all students and our Student Gateway provides a wide range of excellent student welfare services.
From our Student Finance and Welfare Team – who provide professional advice on a diverse range of funding matters and International Student Support Team, to our award-winning Disability Advice and Support Team, Mental Health Inclusion Team and Counselling Team you are always in easy reach of any support you may require during your time at University.
---
Student community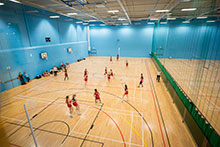 A recent £3 billion regeneration has transformed Leicester into a vibrant hub of entertainment, commerce and culture. Boasting the iconic Curve theatre, £350 million Highcross shopping centre housing more than 100 major retailers, and a thoroughly modernised centre, everything you would expect from the 10th largest city in the country is just a few minutes' walk away from the campus.
De Montfort Students' Union (DSU) also ensures students have the best possible experience at DMU. There are close to 100 sports teams and societies to join, where you can meet new friends who share your interests. Located on the first-floor of the Campus Centre, you can relax in The Lounge, enjoy refreshments in The Lobby and party in our award-winning venue, Level 1.