Overview
Based in the purpose built £35 million Hugh Aston building, the Faculty of Business and Law delivers high quality business, law and politics education to more than 5,000 students from over 60 nationalities, providing a truly global experience. 
Why choose us?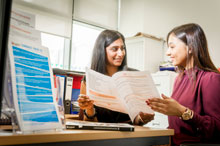 95% of our graduates are employed or enrolled in further study within six months of graduating*
Our Business and Management lecturers draw on their extensive experience; many of them are involved in consultancy and training with international organisations in both the private and public sectors
The Department of Politics and Public Policy is the only politics department in the UK to have two National Teaching Fellows, demonstrating our outstanding achievement in learning and teaching.
Leicester De Montfort Law School places a strong emphasis on developing professional skills through activities such as Law Clinic, Street Law, mooting and client interview which ensure graduates are well equipped for a range of careers in further study
Our faculty Placement Team provides the opportunity to gain invaluable work experience to all of our students. Our students have placements with companies like Lloyds Bank, IBM, Vauxhall and Disney.
---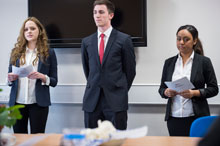 National Student Survey (NSS) **
We are committed to providing our students with the best possible student experience, creating the ideal environment to help them succeed. That is why, in the NSS 2015, we were ranked so highly by our students for overall satisfaction:
---
Industry aligned courses
We have gained recognition and accreditation from a significant number of globally renowned professional bodies, highlighting our quality of teaching and commitment to ensuring our courses remain relevant to industry.
All of the Department of Accounting and Finance's courses have been awarded professional exemptions from one or more professional body. The number of exemptions awarded will be dependent on the programme and combination of modules selected
The Department of Human Resource Management are a Chartered Institute of Personnel and Development (CIPD) Approved Centre. Their programmes are accredited by the CIPD ensuring that you learn the latest developments and practise relevant to the profession.
Our Marketing courses offer significant exemptions from the Chartered Institute of Marketing (CIM) and Institute of Direct and Digital Marketing (IDM) professional qualifications.
* Destination of Leavers from Higher Education Survey 2013/14
** National Student Survey 2015, Q22 Overall Satisfaction