Facilities

Our Facilities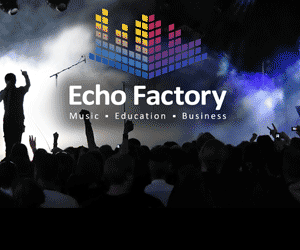 Our campus has a real buzz about it. On route to the café you're likely to pass a film crew, a woman in Elizabethan dress and a DJ. It's a microcosm of the creative industries. Right down to having the best tools for the job.
We invest heavily in the technology and spaces that equip our students for life in the creative industries. We want them to get used to the equipment and facilities they'll find in the real world. We also make sure they have the right resources to make the most of their studies.
---
The Printmaking room
Our printmaking facilities have become a hub of creativity on campus, inspiring students across every from as far back as 1964.
Inside their purpose–built space in the North Light Studios, our printing presses connect students to one of the earliest skills that has changed very little from the time of Durer and Rembrandt.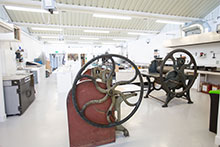 Over the years, we've amassed a number of traditional presses, covering Letter Press, Etching, Relief, Lithogrphy and Silk screen printing. We've dedicated areas for exposure, screen washing and acid etching and we're adding new presses all the time. The printmaking studio has been designed to cater for etching, relief and lithography which relies on oil based inks while at the same time screen printing can be carried out which relies on water based inks.
---
Studio Theatre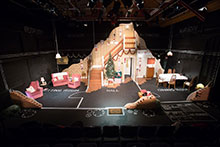 Performers and set designers test their mettle for real in our "black box" style theatre.
With flexible seating for up to 100, the studio theatre also boasts the latest in professional lighting and sound equipment.
Technical expertise is supplied by a dedicated team who show new hands the ropes (and lights, and props, and speakers).
---
The Library
This purpose built library is a state of the art building, the design of which reflects both attention to detail and the use of high quality materials and landscaping.
It reflects the core values of a creative community. 
With a team of professional staff and wide range of resources focussed on the study of art, design, media and performance we aim to help all students at Arts University Bournemouth to realise their full potential both during their studies and beyond.
---
TheGallery 
TheGallery at Arts University Bournemouth offers a unique space in the South West for the arts including design, media  and performance.
Showcasing work from contemporary artists, TheGallery has forged important links with regional arts organisations; including Aspex, Russell Cotes Art Gallery and Museum, Dorset Visual Arts and Arts Bournemouth.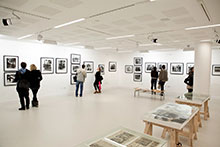 TheGallery runs a number of artist talks, events and film nights to support the exhibition programme. It also works in partnership with WestBeach, Pier Approach in Bournemouth, to host artworks from TheGallery's exhibition programme on the walls of WestBeach, as an additional platform for TheGallery to showcase their exhibitions, making the artwork accessible for all and encouraging further exploration of the exhibition in TheGallery at AUB.