NMITE: Be Part of It
Engineering, but not as you know it!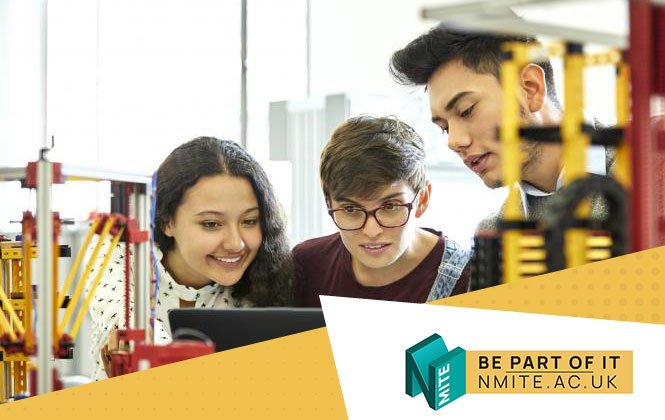 NMITE Clearing extended for January 2022. Call 01432 804 546 now.
Apply now for January 2022 and receive a bursary of £4,000 within your first year, regardless of household income*. Applications now also open for September 2022.
Contact our Clearing line: 01432 804546
Click here to email our Admissions Team 
Or apply through UCAS Clearing
---
You're about to take a journey into a totally new higher education experience.
If you think you're one of the world's challengers and pioneers, join us. Because we're educating a new generation of engineers whose diverse backgrounds will give them the mindset to think – and work – differently.
We need to build a better future together.
We're so passionate about changing engineering education to meet this challenge that we've redesigned the whole learning process – from curriculum to classroom, admissions to assessments, industry partnerships to internships.
We've asked why and why not about everything!
---
Our Master's Integrated Engineering (MEng) in just 3 years

 

– and you'll be work-ready too.
Real-world learning

 

– hands-on experience from day one with real employers, solving real problems.
No traditional exams

 

– instead, you'll have your own personal learning portfolio that will live on with you after graduation.
Learn 9-5, Monday-Friday

 

- modelling the real workplace. Your own time is just that, undisturbed for you to enjoy.
Course fees are currently just £7,200 per year

 

– bursaries available now.
Applications welcomed from a variety of backgrounds

 

- no need for Maths or Physics at A level, we'll teach you what you need to know!
---
The NMITE MEng Integrated Engineering
Conceived by rebels. Modelled after the best engineering universities in the world. Developed by engineers, industry and students. Immersed in design and innovation. Delivered in the context of real-world challenges. Infused with practical skills. Tested by learners. And, most importantly, quality assured and scrutinised to meet the same high academic standards of all other higher education institutions.
Right for you?
---
Contact Us
The quickest way is for you to contact our Clearing line direct on: 01432 804546
Alternatively, or if you have a question you'd like answered first, you can click here to email our Admissions Team.
Or you can apply through UCAS Clearing.
---
---
*Payable to Registered Students only, in 3 separate instalments within their first year of study. 
https://nmite.ac.uk/bursary